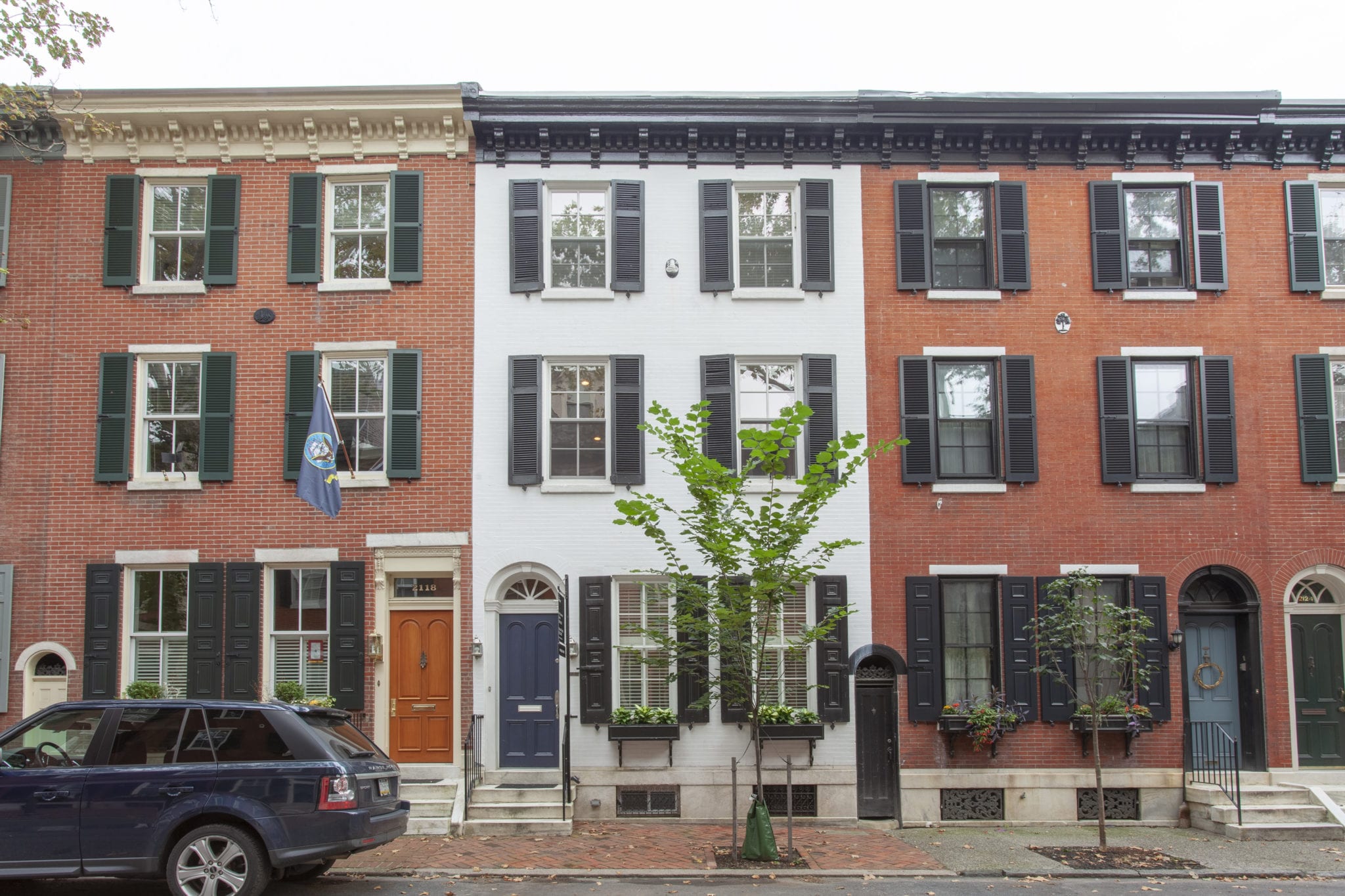 Decorating the uniform gridiron streets of Philadelphia is a collection of homes as unique as the city itself. These narrow, one- to four-story houses, attached to their neighbors on either side are more prevalent in Philadelphia than any other major city. Comprising 60% of the city's residential housing these historic homes are a novel part of who we are. So much so that many of these homes have been standing for centuries. So how (and more importantly why) does a city nearly 3 centuries in the making live in the same houses as some of our earliest residents? We're taking it back and breaking it down to learn how these houses came to be and why they are still so popular today.
The History
Intended to be a "greene country towne" William Penn's original plan for the city was interrupted by Philadelphia's large housing boom. Early developers began to purchase large plots of land and build housing over the green town. Over on Front Street in 1690 the infamous rowhouses began to spring up. The structure was modeled after the European house style, known as the Terraced house, which was popular in our founder's home country of England. The earliest adaptation of this house in Philadelphia was the simplistic bandbox, or trinity house, roughly 400-600 sq ft in size with one entry, winding staircase, no running water, and with no main street frontage. These houses duplicated along narrow alley blocks nearest the waterfront in the early 18th Century.
Grander home styles such as the Federal and Georgian were then introduced for the upper class, boasting footprints up to 7,000 sqft. Towards the end of the 19th Century during the industrial revolution the workingman's house, which was an affordable housing option for industrial workers who previously were confined into much smaller rental options. Contrastly, this period brought the towering Victorian brownstone mansions found in Rittenhouse and Fitler Square. A place for the social elite to hang their hats. The introduction of automobiles and streetcar forced the building of new, larger roads. Along these roads the streetcar townhouse was introduced, a 3 story 2,000 sq ft middle ground housing option. The 20th Century houses, typically found in North and West Philadelphia were porch-front Airlite houses in attached rows or twins.
An Architectural Gold Mine
Despite these homes being centuries old, the bones of even the earliest houses are proudly withstanding the test of time.  The rowhouse's smart architecture boasts countless benefits which is why the basic structural characteristics remain.  Following the Great Fire of 1666, many builders adopted a safer, more sustainable style of the Terraced house.  Typically narrow in structure, these one- to four-story houses have flat roofs and are attached on both sides to the neighboring homes. A simple design duplicated along city blocks allowed for a cost-effective and efficient building process, allowing builders to double down on resources and labor. The narrow structure allowed builders to fit more houses on a  specific block as well as provide an efficient energy source for each house. With shared walls and slim widths, this simple footprint was easier to run allowing for more energy-efficient houses. Finally, constructed with tall masonry walls these houses were designed to last and prevent fires from spreading from one house to the next.
The brick frontage also provided astute architectural perks. The earliest homes were composed of brick due to the plentiful resources among local manufacturers. This made is a cost-efficient option in terms of transportation and availability. The other reason brick was heavily utilized was its durability. Able to withstand high temperatures, buffer sound and protect from water damage all contribute to why our city's homes are mostly decorated in brick.
The Row is Still Regal
So why are they still so popular today? These houses are uniquely Philly. Standing firm, side by side just like the people of the city itself. The architectural benefits of these homes are king, but they also promote a culture unlike any other. Stuck to your neighbor (for better or worse) the rowhouse promotes a community camaraderie. You can argue that this is the case in every city, but with historical prestige, unique additions and funky facades our houses have a
distinct originality. Argue this if you want, but just remember Philly invented the American rowhouse.
Sources:
Philadelphia Rowhouse Manual – 2008. Published by Rachel Simmons Schade, AIA, Schade and Bolender Architects.,
The Encyclopedia of Greater Philadelphia – 2013. "Rowhouses" published by Amanda Casper.